---
Inflatable Towable Tube Boat Water Raft Float 1, 2 or 3 Person 
Note:
Due to the high demand, our US
 Stock is running low currently, Please make sure you reserve yours now before it's too late.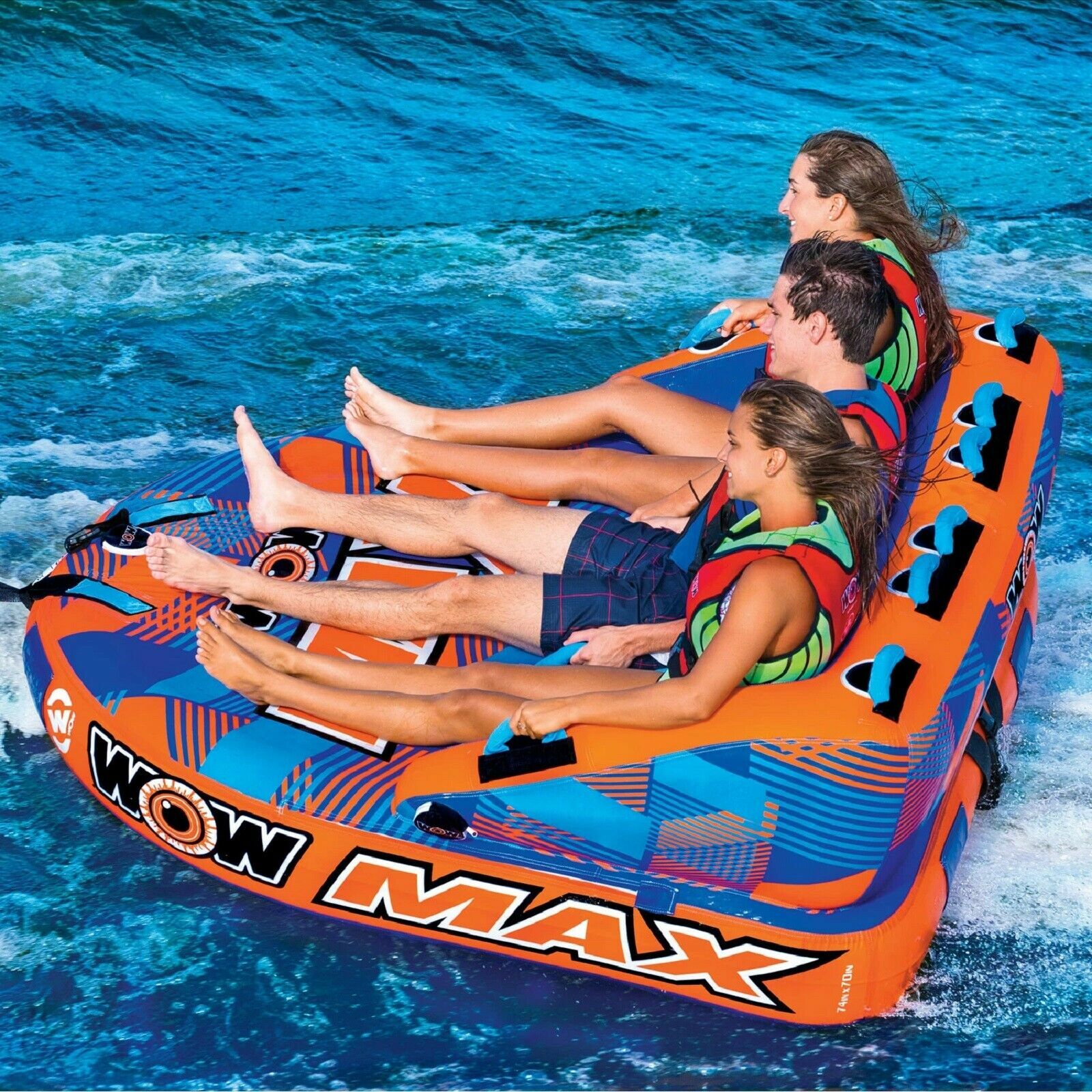 Share an exhilarating inflatable ride with friends on this three-person towable. Front and rear tow points provide different riding positions for versatility and fun. The couch-style position lets passengers sit with straightened legs while leaning on the secure backrest and holding onto the deck handles, providing a safer option for beginners. For more adventurous riders, the chariot-style option supports a kneeling position while maintaining balance with the help of the secure backrest handles.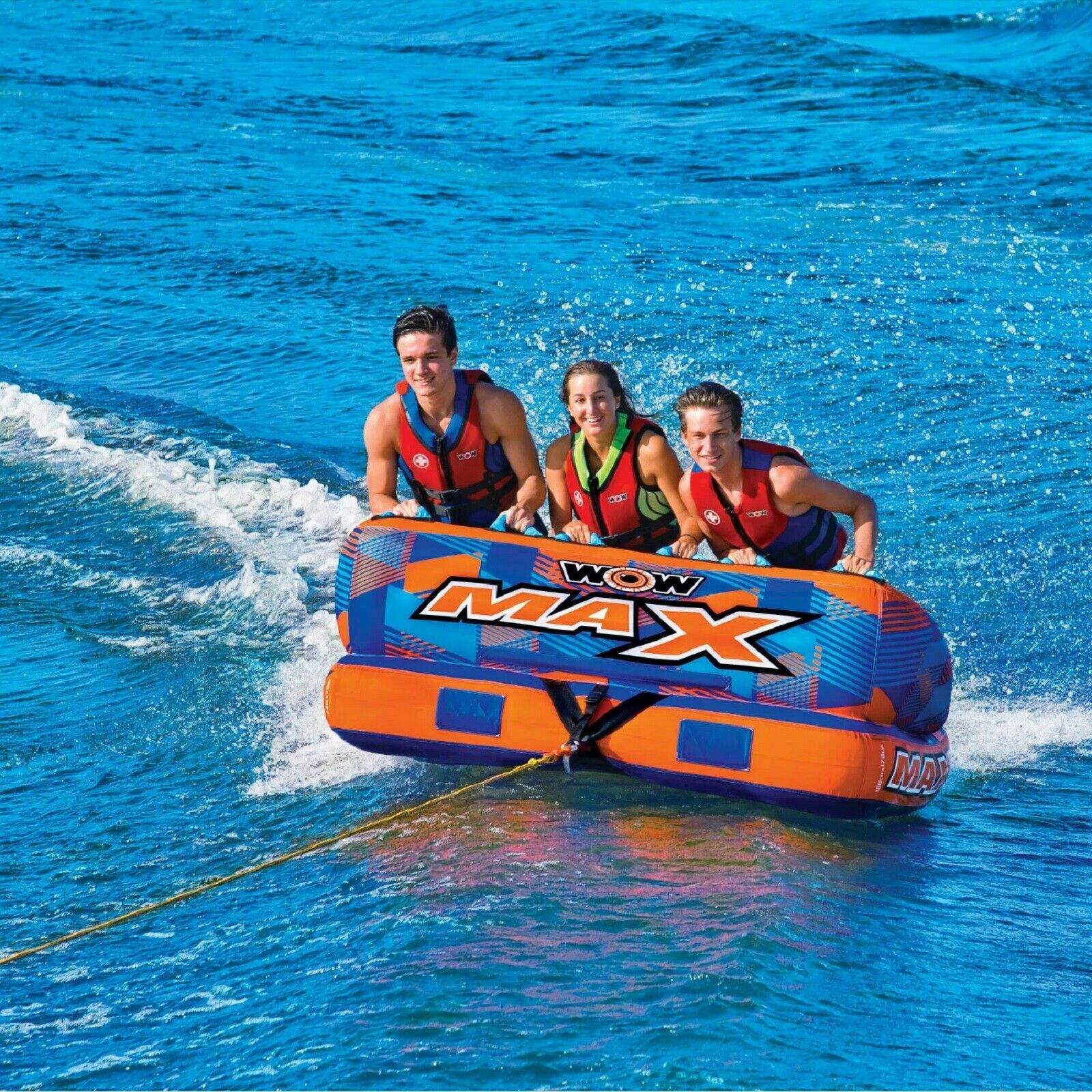 The 16 foam handles on this three-person towable are located at the right places, providing a comfortable yet secure grip for seated and kneeling positions. Constructed with double webbing, each handle is sturdy enough to withstand firm grips during rapid movement, bounces and sharp turns, so you and your fellow riders can hold on tight while having a blast and enjoying every thrilling moment.
When not used for towing with a high-speed boat, this three-person makes a great giant inflatable couch on the beach, pool or lake. Riders can relax by laying down on the spacious deck or leaning comfortably on the high backrest and side walls while sunbathing, having cocktails with friends or simply taking a break after a wild ride.
This three-person towable features a heavy-duty PVC bladder and a full nylon cover with a secure zipper, so it's able to withstand the hot sunny weather, saltwater and fast, bumpy rides for reliable frequent use even for years to come. The speed valve has a zippered cover for fast inflation and deflation, enabling a rapid setup time to get the fun in the water started and quick breakdown for stowing in between uses.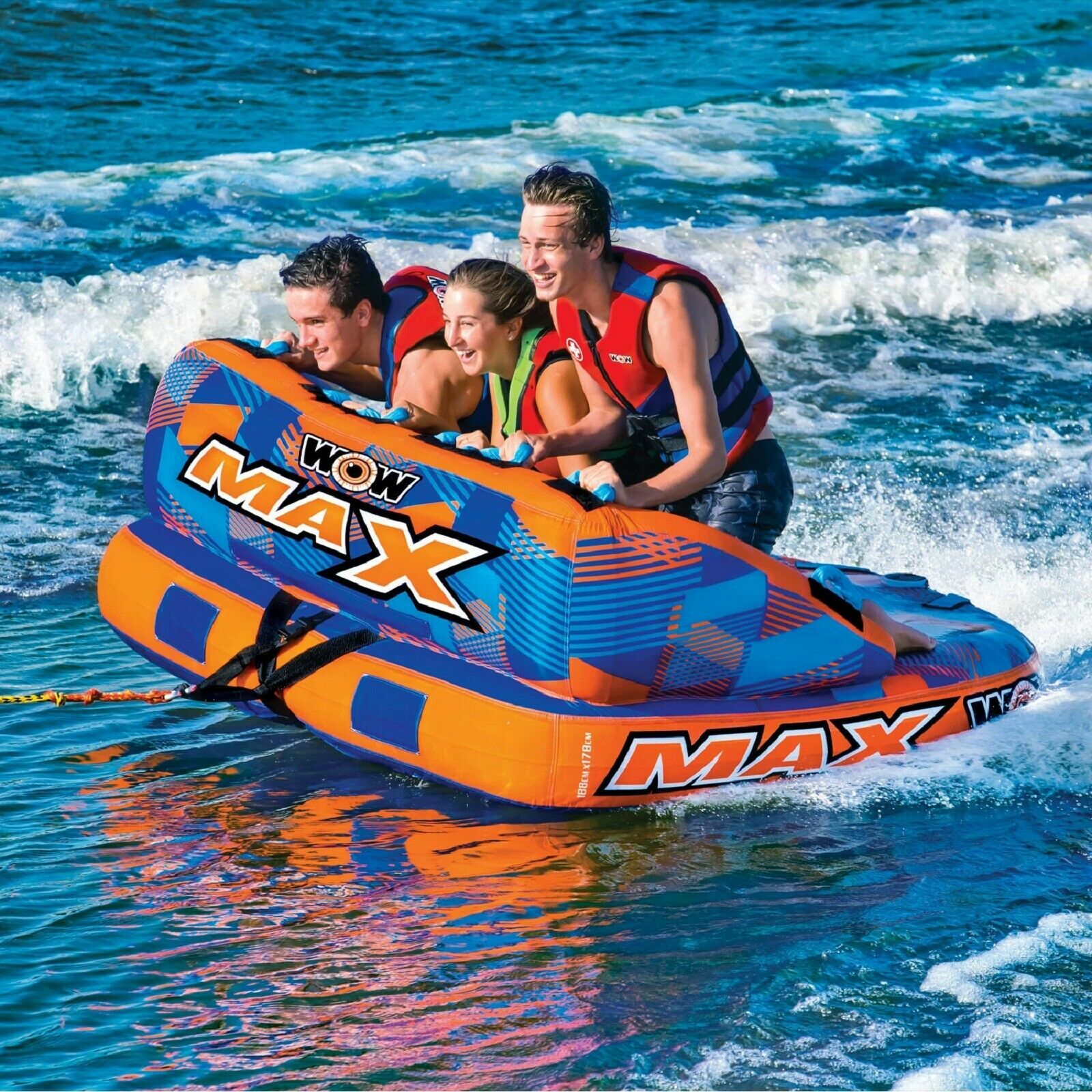 Features:   

 

High backrest and side walls: For added security
Multiple foam handles: Ample support
Heavy-duty materials: Sturdy, rugged quality
Inflated dimensions: 74"L x 70"W x 27.5"H
     1-3 rider deluxe classic combo action towable 510 lbs. 231kg. maximum capacity
Secure deck seating has high back backrest and side walls for secure seating on whips and turns
Secure deck setting is great for young kids or adults who want a secure ride.
Makes a great lounge for relaxing after your ride
16 double webbing foam handles for multiple riding positions
Heavy-duty full nylon cover with heavy-duty secure zipper
Heavy-duty PVC bladders
Zippered valve cover for secure inflation
Speed valve for fast inflation and deflation
HI-VIS Mega Size edition for 1-3 riders
Inflated: 74" x 70" x 27.5" 188 x 177 x 69 cm