---
110 / 220V CUT50 Plasma Welding Cutter Electric Welding Kit Mini Welder Machines Digital Cutting Inverter with Accessories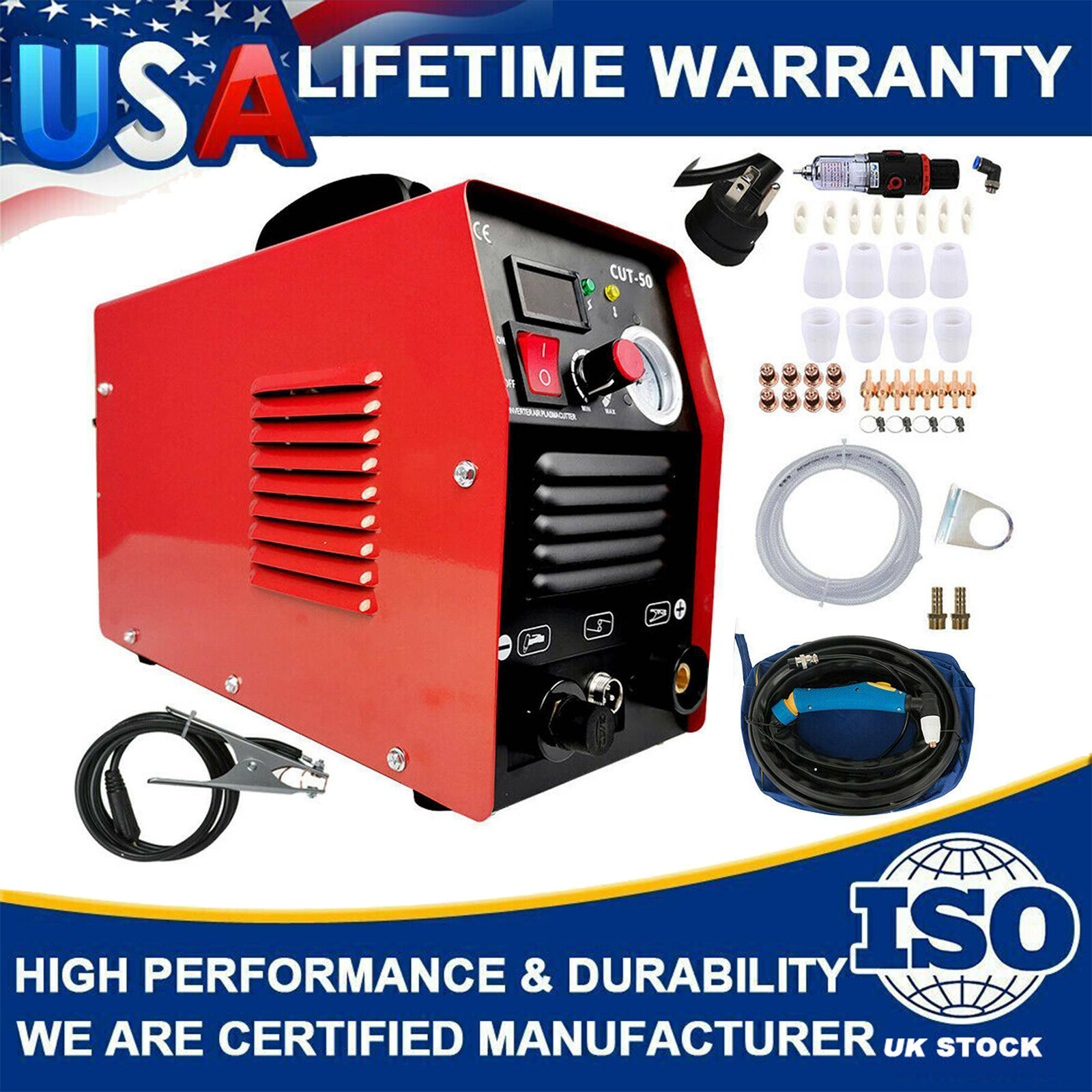 Features:
* [High efficiency and energy saving] The cutting machine adopts switching power supply inverter technology, which is stable and mature, greatly reducing the size and weight of the main transformer, saving energy by 50% and increasing efficiency by 30%. Improved cutting torch cooling method; greatly reducing the service life of cutting consumables.
* [110V or 220V dual voltage]-The dual voltage function enables the plasma cutting machine to operate at 110V or 220V with a power of 60HZ. The plasma cutting machine has the function of supplying gas in advance and delaying the closing of gas.
* [Digital display] DC output digital LCD display, easy-to-read front panel barometer, energy saving, no noise, fast cutting speed, smooth cutting, no polishing requirements.
* [Exquisite workmanship] Made of heavy iron. Its sturdy material structure makes it highly reliable and has the strength that can be used for a long time. It can not only be used for enterprises and DIY users, but also can fully meet the needs of professional operators.
* [Wide range of applications] Suitable for a wide range of applications such as sheet metal manufacturing, light industry, construction sites, automobiles, pipeline engineering, repair and maintenance services. The cutting machine can not only be used for enterprises and DIY users, but also can fully meet the needs of professional operators.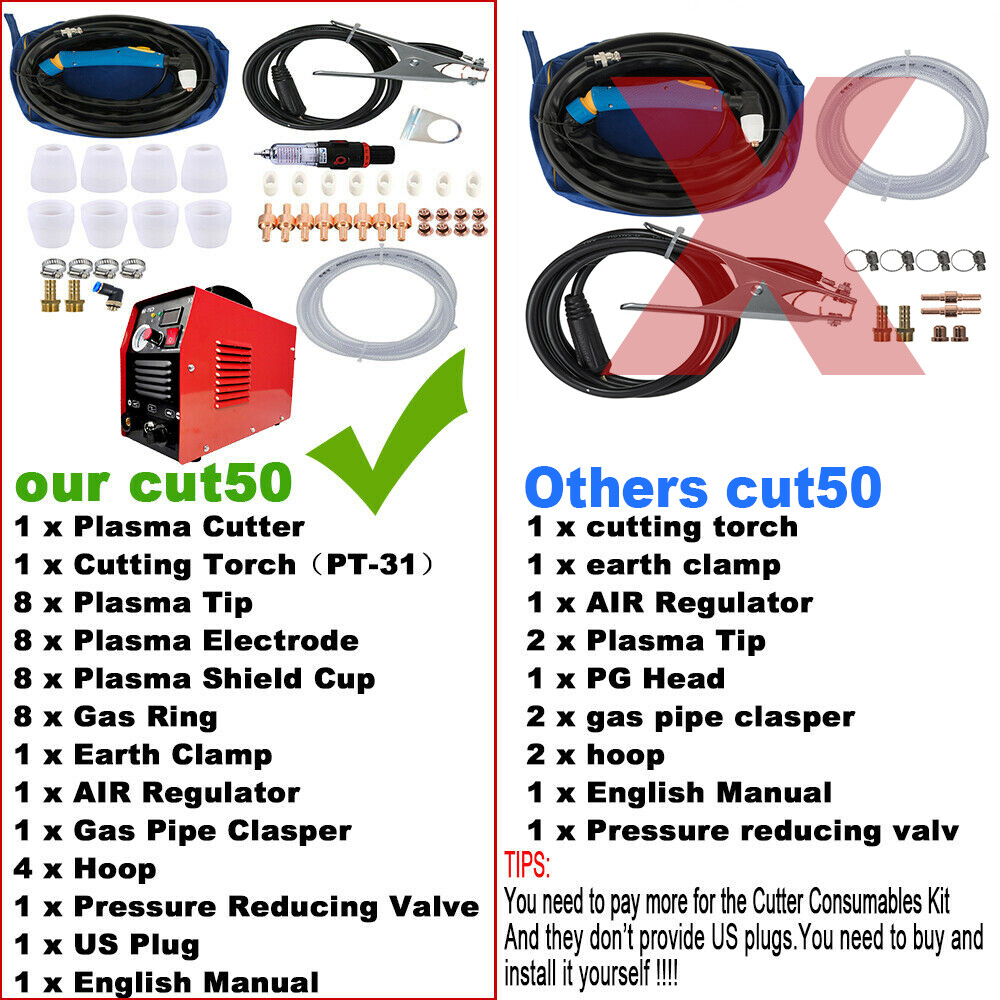 Specification:
Name: Plasma cutting machine set
Model: CUT50
Insulation class: F
Purpose: cutting metal
Enclosure protection grade: IP 21 S
Floating voltage: 110 / 220V
Open circuit loss: 40W
Rated current: 10-50amp
Air pressure: 0.4MPa
Duty cycle: 60%
Input voltage: AC 110 / 220V±15%
Arc ignition model: touch
Frequency: 50/60 HZ
No-load voltage: 230 V
Rated output voltage: 102V
Power capacity: 5.2 kVA
Efficiency: 85%
Rated input current: 24 A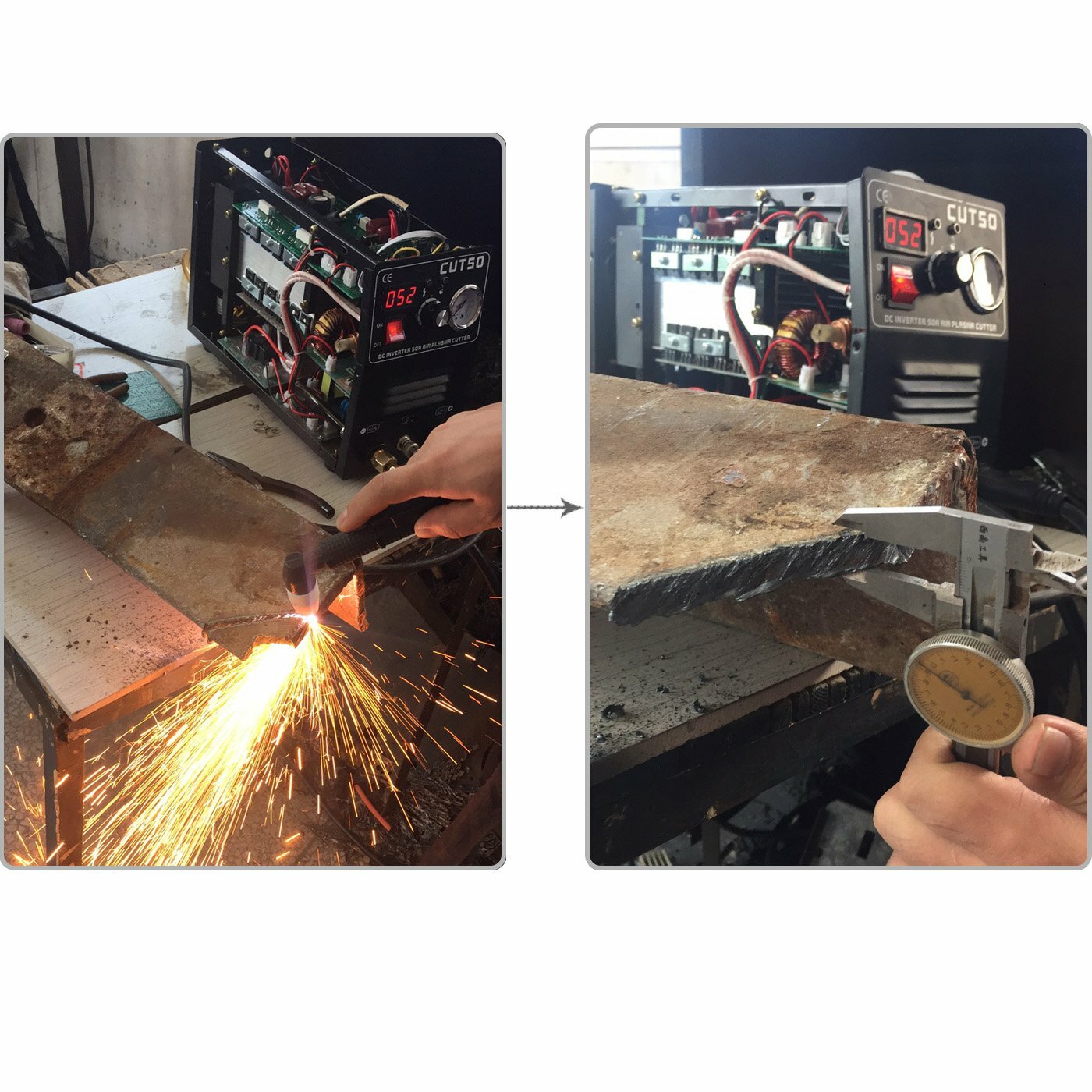 Packing includes:
1 x Plasma cutting machine
1 x Cutting Torch(PT-31)
8 x Plasma Tip
8 x Plasma Electrode
8 x Plasma Shield Cup
8 x Gas Ring
1 x Earth Clamp
1 x AIR Regulator
1 x Gas Pipe Clasper
4 x Hoop
1 x Pressure Reducing Valve
1 x US/EU Plug
1 x English Manual
Note:
1. Please allow 1-3cm (0.4-1.18") difference due to manual measurement and slight color variation for different display setting.
2. Due to the light and screen difference, the item's color may be slightly different from the pictures. Please understand.